Now that the winter is upon us it is important to take caution when you are outside. The slip and fall cases are very common in the winter and if you are unfortunate enough to experience an accident (and contemplating filing a claim), there are a few things you should know.
But first things first, why should you have a Personal Injury lawyer helping you? There are so many factors that can influence your case. Things that you might not consider, such as weather data from days before the accident, hospital records, maintenance records – these are just some of the issues that you should keep in mind.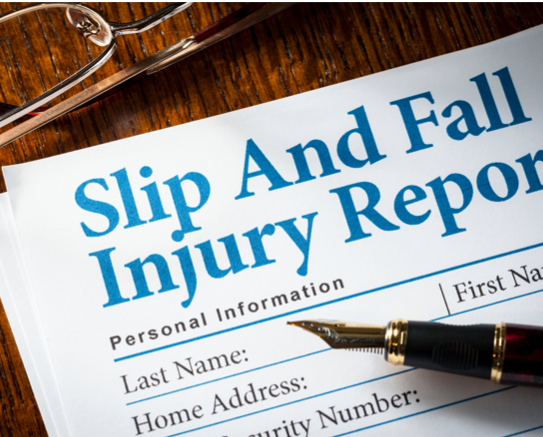 Property owners have to ensure their property is properly maintained and have regular procedures in place for repairs. They also have to clearly mark and warn people of any dangerous situations.
So what happens if despite all the precautions, you have the misfortune of a slip and fall?
Take pictures – Pictures are very effective when it comes to proving your case. Just describing the place or the surface which caused your fall often is not enough. Although some areas might have cameras in place where the fall might have happened, don't assume those are workable or have the right angle.

Proper shoes – It might not seem like an important detail, but if you were not wearing winter shoes with a grip during a snowy/slippery day, it probably won't be in your favour. Again, photo evidence would help.

Witnesses – If you are able to get witness information that would really help your case. Unlike other accidents, police are not involved in slip and fall cases. This means they won't be interviewing witnesses or keeping records and that task falls onto you.

Precise location – Knowing and remembering the exact location of the fall is key. There are big differences between falling on a private property vs. municipal property. This also would determine who will be potentially paying for your injuries. Also, to note, if you don't give 10 days written notice for a fall on a Municipal property, you might miss the opportunity to file a claim.

Insurance – The property owner might have their insurance company call you for a statement. It is vital that you talk to your Personal Injury lawyer before giving any statements.

At Eshel Law we have the experience and expertise when it comes to personal injury claims. We can simplify the process for you and advise you on next steps. We ensure you are legally protected and receive any compensation you are entitled to.
Contact us at: info@eshellaw.ca or visit our website to make an appointment: www.eshellaw.ca.